Event Details
CIS & Terrebonne General: Free Community Health Screening
Categories:

Community Events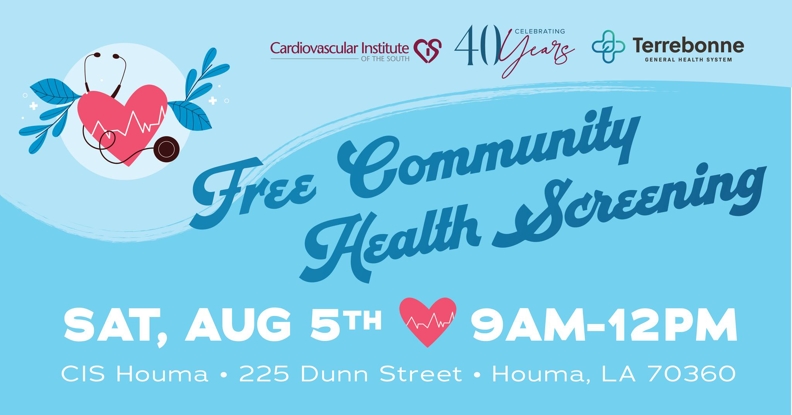 About This Event
Event Type:Community Outreach
Details:
Cardiovascular Institute of the South (CIS) and Terrebonne General Health System are hosting a free health screening on Saturday, August 5th, from 9:00 a.m. - 12:00 p.m. at 225 Dunn Street in Houma.
This event will include:
Electrocardiograms (EKGs)
Cholesterol Checks (Please fast the morning of the screening for accurate results. Refreshments will be provided afterward.)
Thermal Imaging Screenings (Please plan to wear shorts, pants, a dress, or a skirt that can be pulled above the knee for this screening.)
Height, Weight, and BMI Calculations via the InBody 230 Scale

Provider Consults by CIS Interventional Cardiologist Dr. Matthew Finn.

Giveaways, refreshments, and more!
EKGs check the heart's electrical signals and can detect blockages and more. An EKG is recommended for those with risk factors or symptoms of heart disease.
Thermal imaging screening uses new technology that can detect venous insufficiency.
Risk factors of cardiovascular disease include family history, high cholesterol, high blood pressure, and diabetes, as well as smoking, being overweight, or being inactive.
Registration