Rehabilitation Services
The Best at Getting You Better.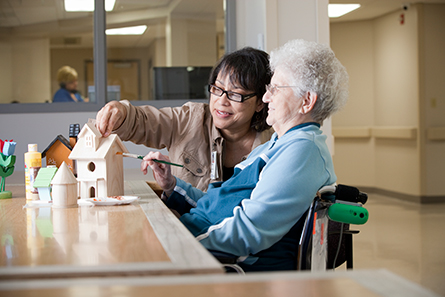 At Terrebonne General Health System, our staff's goal is to help you maintain and restore optimal strength and stamina. It's common for patients who have spent a long time at a hospital to lose function from a physical, cognitive, social, economic, or psychological standpoint. That's where we come in. We proudly offer physical therapy, occupational therapy, and speech therapy. Any or all of these forms of rehabilitation may take an active role in helping you heal so you can return home as quickly and safely as your condition improves.
Our Mission
The mission of the Health and Rehabilitation Center is to provide exceptional patient-centered care for healing and recovery from compassionate professionals.
Goals of the Center
Our services aim to maximize the individual's potential in restoring function and help the individual make adjustments by integrating other services.
The atmosphere of the Health and Rehabilitation Center is warm, open, and supportive. Patients, families, and staff become partners in developing the skills of the patient.
We focus on the individual's abilities rather than disabilities to not hinder the purpose of our team approach toward completing treatment goals.
Click here to locate a Terrebonne General Physical Medicine and Rehabilitation Physician today.
Outpatient Rehabilitation
You may continue to undergo rehabilitation, even after you return home, on an outpatient basis. The Terrebonne General Outpatient Rehabilitation facility is one of only a few facilities to provide all three rehabilitative service disciplines (occupational, physical, and speech). We evaluate and treat patients with various conditions and patients of all ages. We are also partnered with Terrebonne General Community Sports Institute to evaluate and treat sports-related injuries, including concussions.
Outpatient rehabilitation at Terrebonne General:
Provides a complete, comprehensive assessment of each patient's medical and psychological condition before planning the rehabilitation treatment plan
Is warm, open, and supportive, and each member of the treatment team, including the patient and their families, becomes partners in enhancing the skills of the patient
Focuses on the patient's abilities rather than their disabilities while working towards completion of treatment goals
Visiting Hours
Scheduled visiting hours are from 4 to 9 p.m. on weekdays, noon to 9 p.m. on Saturdays, and 8 a.m. to 9 p.m. on Sundays. Special arrangements can be made for out-of-town visitors or individual circumstances.
On Your First Visit
When you arrive for rehabilitation services, come 15 to 20 minutes before your appointment to complete the required documentation. Bring any significant documents from your physician, including a surgery or radiology report, if you have one. Bring your list of current medications, note any allergies, and jot down your medical history. Ensure you have your government-issued ID card(s) and insurance card(s). Wear comfortable clothes to expose the examined and treated areas, and wear supportive footwear. If the patient is under 18, one or both parents must be present.
We are located on the 1st floor of the Healthy Lifestyles Center.
Careers at Terrebonne General
Health System
Would you like to hear about future openings at Terrebonne General?
Register Here