Bayou Region Athletic Hall of Fame
The Bayou Region Athletic Hall of Fame's mission is to provide inspiration to our community by illustrating the success, at the highest level, of those selected student-athletes from our bayou region. To educate, remember, and ensure that our present and future generations never forget the possibilities of their success by remembering the examples set by our past.
Click here for the nomination form.
Wall of Fame
Terrebonne General Health System proudly displays the Wall of Fame which is located in the Healthy Lifestyle Center. Please click the image below to view.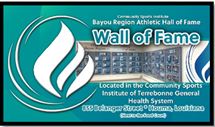 Inductees
Please click the image with the inductee's name below to view their biography.
2023
2022
2020-2021
2019
2018
2017
Careers at Terrebonne General
Health System
Would you like to hear about future openings at Terrebonne General?
Register Here