Diagnostic Imaging
High-Tech. High-Touch.
When you need answers quickly, you want to rely on the fastest and safest diagnostic imaging possible. Terrebonne General performs approximately 140,000 exams a year and offers a wide range of services including: HD Cat Scans, 3T and 1.5T HD MRIs, Nuclear Medicine, Pet CT, Digital Mammography, Stereotactic Breast Biopsy, Breast Specific Gamma Imaging, Bone Densitometry, Ultrasound, Neurology and Digital X-Ray.
Types of Imaging
GE Revolution Frontier Gen 2 CT Scanner
Terrebonne General Health System is Louisiana's only facility in the state to offer breakthrough technology that provides medical experts with the clearest, most accurate images available on the market thanks to the new GE Revolution Frontier Gen 2 CT Scanner.
In other CT scanners, metal caused by hip implants, clips, screws, or dental work, may result in blurred images. The GE Revolution offers metal artifact reduction, which clearly defines metal images so readings are more accurate. With this advanced automation, Terrebonne General's equipment aids physicians in making a prompt, more precise diagnosis.
Patient comfort and safety is a top priority for Terrebonne General. Patients can expect the following, thanks to the GE Revolution Frontier Gen 2 CT Scanner:
Faster trauma scanning
Fewer breath holds during scans
Comforting scenery videos for a sense of relaxation
Instructional videos
Noise reduction for an overall quieter scan
Lower radiation doses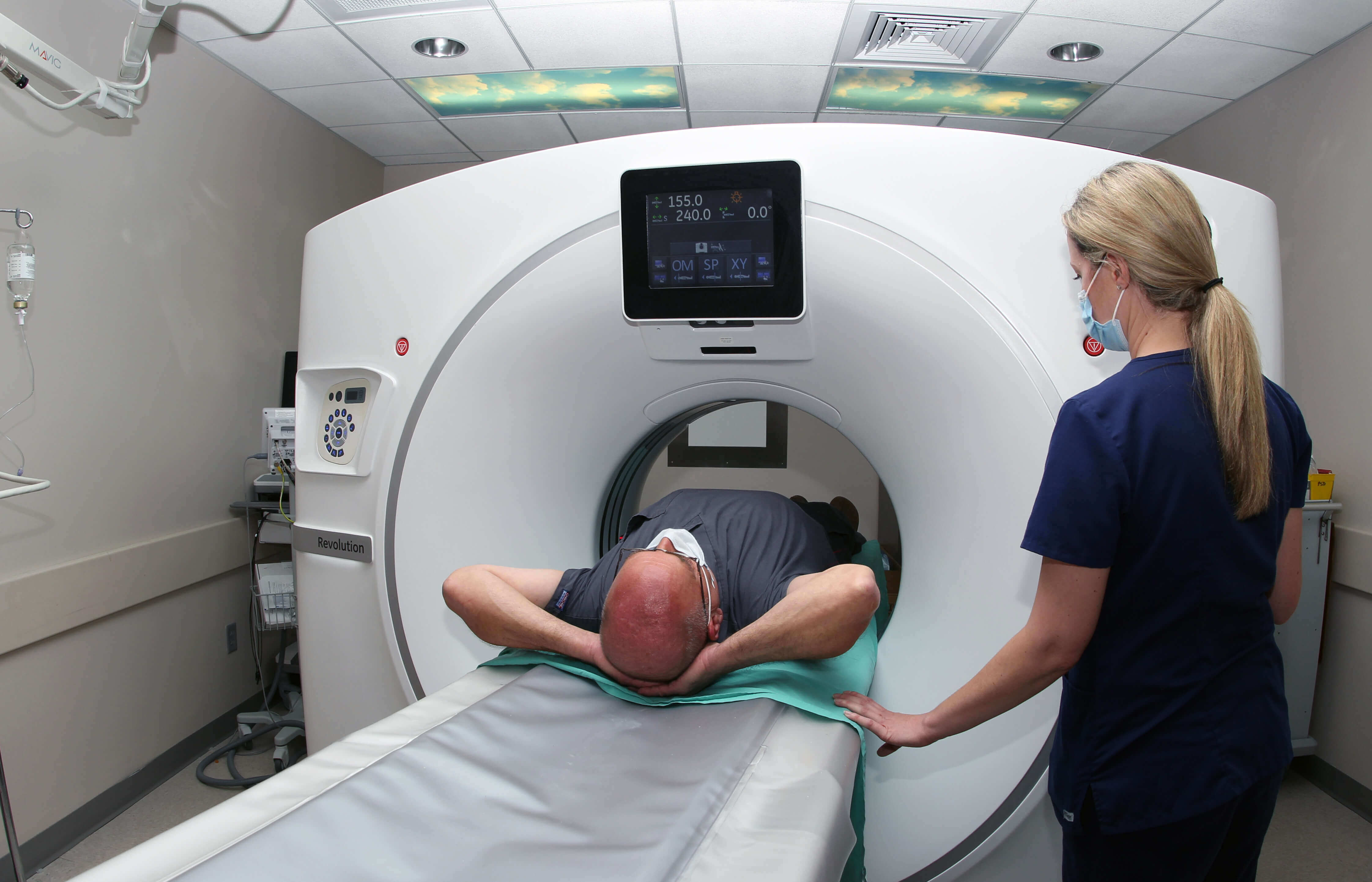 Other Advanced Diagnostic Imaging Techniques
The Imaging Department at Terrebonne General provides both inpatient and outpatient services. Outpatient X-rays can be performed in our Outpatient Imaging Center located in the Medical Atrium and in the main hospital's imaging department. Outpatient procedures such as mammography, bone densitometry, and ultrasound can be performed in the region's first Women's Imaging and Breast Center located in the Women's Health Center.
Terrebonne General performs approximately 140,000 exams a year and offers a wide range of services, including:
HD Cat Scans
3T and 1.5T HD MRIs
Nuclear Medicine
Pet CT
Digital Mammography
Stereotactic Breast Biopsy
Breast Specific Gamma Imaging
Bone Densitometry
Ultrasound
Neurology
Digital X-Ray
Terrebonne General's Silent MRI and Caring MR Suite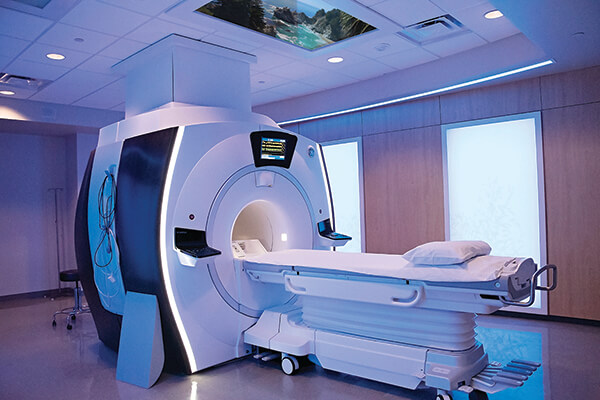 Terrebonne General offers a state-of-the-art magnetic resonance imaging (MRI) and Caring MR Suite® Imaging Area. The hospital continues to enhance the quality of the patient experience. The world-class MRI suite will feature a GE Optima MR450w 1.5T magnetic resonance imaging (MRI) machine. This imaging system particularly benefits those who need procedures, including MR angiography, neurological/brain imaging, spine studies, orthopedic studies, and abdominal imaging. Terrebonne General's high-definition technology improves imaging speed and quality.
The advanced technology of the MRI offers:
Clearer images
Better patient comfort
Noise reduction
Larger open feel
Patient choice of color scheme, music, and video content
Learn More About Fully Accredited Imaging Tests for Reliable, Safe, Quick Diagnoses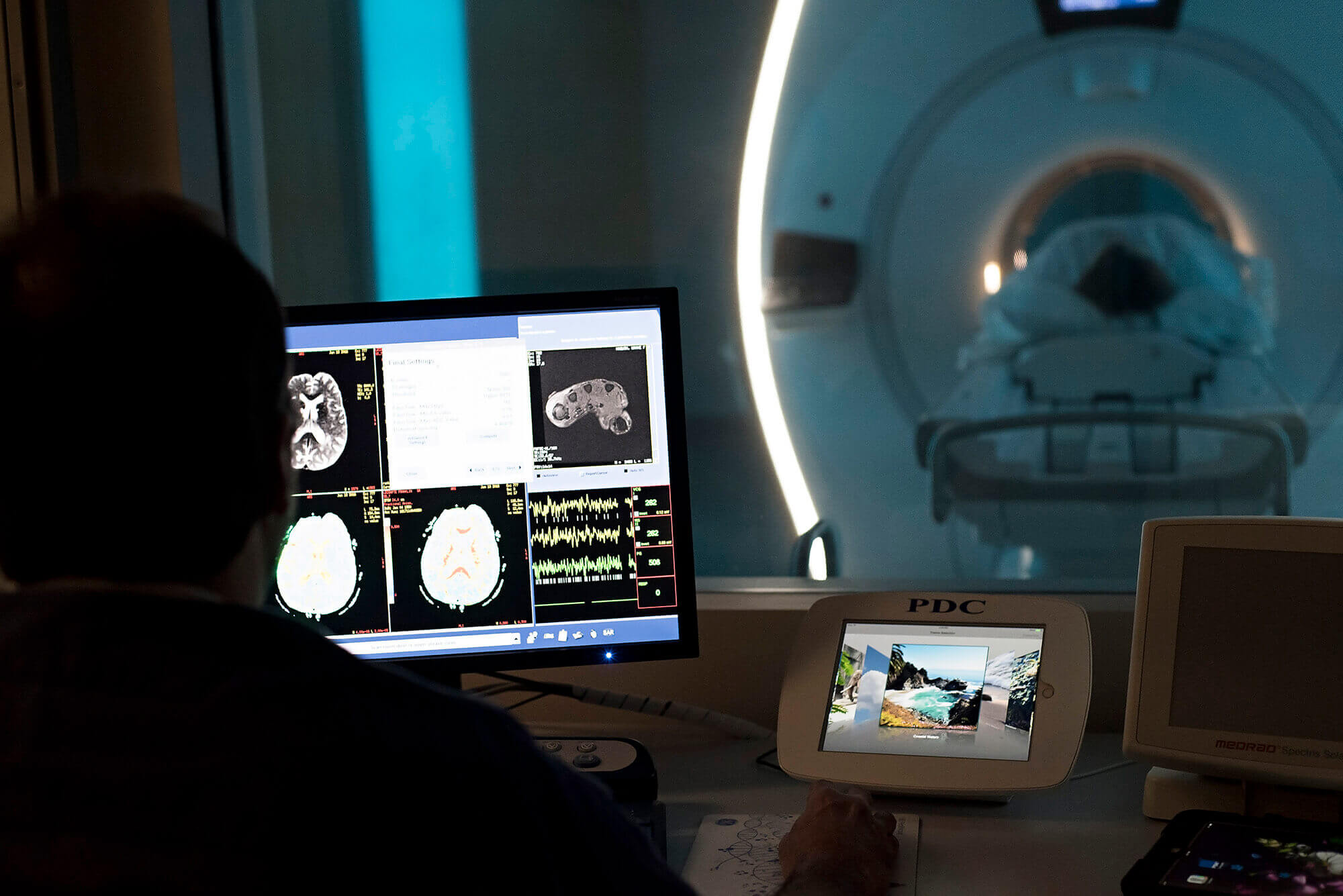 Services offered through the Radiology Department at Terrebonne General are fully accredited by the American College of Radiology for specific imaging tests. Our Imaging Department is accredited by the American College of Radiology (ACR) for mammography, ultrasound, CT scans, nuclear medicine, Pet CT, and MRI scans. Terrebonne General was awarded the state's first 3-year accreditation from the American College of Radiology (ACR) in CT-Scan. Terrebonne General is also the first hospital in the region to receive the American College of Radiology Lung Cancer Screening Center designation.
Our CT scanners at Terrebonne General perform multi-slice imaging on a routine basis, giving medical providers outstanding diagnostic information. CT scans, also called "cat scans," are units equipped with a low-dose radiation software that assures patients are only exposed to minimal amounts of radiation. These scanners provide expert image quality while reducing X-ray radiation dose. Minimized radiation and the speed of these imaging tests are two of the main benefits of the CT scanners.
Other important clinical uses for the CT scanner are:
Evaluation of stroke injuries
Evaluation of the head, neck, thorax, abdomen, pelvis, and extremities using CT angiography
Image-guided biopsies
The Radiology & Special Imaging Center at Terrebonne General offers the most innovative and specialized technology available for diagnostic imaging. Our physicians rely on diagnostic imaging for quick answers to make an accurate diagnosis in a wide variety of clinical cases.
For more information on Radiology and Special Imaging Services at our hospital, please call (985) 873-4141.
To locate a Terrebonne General radiologist, click here.
Careers at Terrebonne General
Health System
Would you like to hear about future openings at Terrebonne General?
Register Here