Event Details
2022 Bayou Region Athletic Hall of Fame
Categories:

Foundation Events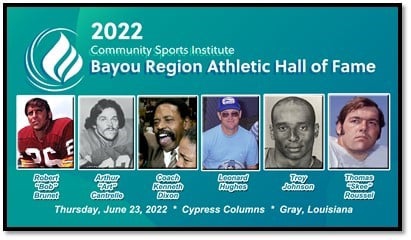 About This Event
Event Type:Community Outreach
Details:
SOLD OUT
Inductees for the 2022 Bayou Region Athletic Hall of Fame have been selected and announced for the fifth annual Terrebonne General Community Sports Institute's Bayou Region Athletic Hall of Fame. The sports-themed banquet honors six local professional athletes/coaches who will be inducted into the Bayou Region Athletic Hall of Fame. The event will take place Thursday, June 23, 2022, at Cypress Columns in Gray, LA, at 6 pm.
This year's renowned inductees include football greats Bob Brunet, Art Cantrell, Troy Johnson, and Thomas "Skee" Roussel, coaching legend Kenneth Dixon, and NHRA racing pioneer Leonard Hughes.
To purchase tickets, click here.
Registration
Price:

$50.00
Registration Instructions:

Sponsorships for this year's Hall of Fame are available by calling Elmy Savoie, The Foundation for Terrebonne General, at 985-873-4603 or emailing foundation@tghealthsystem.com. This event is sold out.