Community Sports Institute
Where Medical Science Meets the Art of Caring.
The Terrebonne General Health System Community Sports Institute was created to impact future generations by promoting healthcare education and disease prevention, along with athletic injury prevention and post-care. The team works with the local school system beginning at elementary-age throughout high school levels, to teach health education and promote healthy habits. The Community Sports Institute and our athletic trainers have been recognized by the Houma-Terrebonne Chamber of Commerce for volunteer contributions and services to the Terrebonne Parish community.
This program will support teachers in educating students on healthy strategies, allowing them to gain exposure to healthcare experts while supporting the coaches and athletes in medical assistance and proper techniques to prevent injuries while on the field. This partnership is also inclusive of elementary and junior high schools.
Our Impact
Since its inception in January of 2014, Terrebone General Community Sports Institute has had a huge impact on our community:
Partnered with six school systems, the Terrebonne Parish Recreation District, and provided services for the Bayou Soccer Association to keep all our players, coaches and parents educated and cared for properly.
We reach over 23,000 students annually.
Through training coaches, teachers, and staff members in healthcare, we keep the students and educators of our community safe.
Our partnership with the Terrebonne Parish Recreational Department teaches and cares for the volunteer coaches and participating athletes.
We have provided intensive hands-on training that includes
CPR & AED Certification
Life skills
Basic first aid
Concussion awareness
Heimlich Maneuver
We offer baseline concussion testing for more than 1,400 student athletes in the Terrebonne Parish school system annually.
We have athletic trainers present at over 1,300 events annually: high school games, run/walks, soccer tournaments, summer league swampland, summer weight room sessions, educational seminars, and so on.
Terrebonne General is a proud community partner with the school system, recreational department, and all athletes to educate the faculty and students who are the future leaders of our community.
Meet Our Athletic Trainers
From left to right: Zachary Poincon LAT, ATC, Brett Chiasson MS, LAT, ATC, Director of Healthy Lifestyles Center, Ryan Adams LAT, ATC, Danielle Adam M.Ed, LAT, ATC, Cheyenne Naquin LAT, ATC, and Peyton Bledsoe M.Ed, LAT, ATC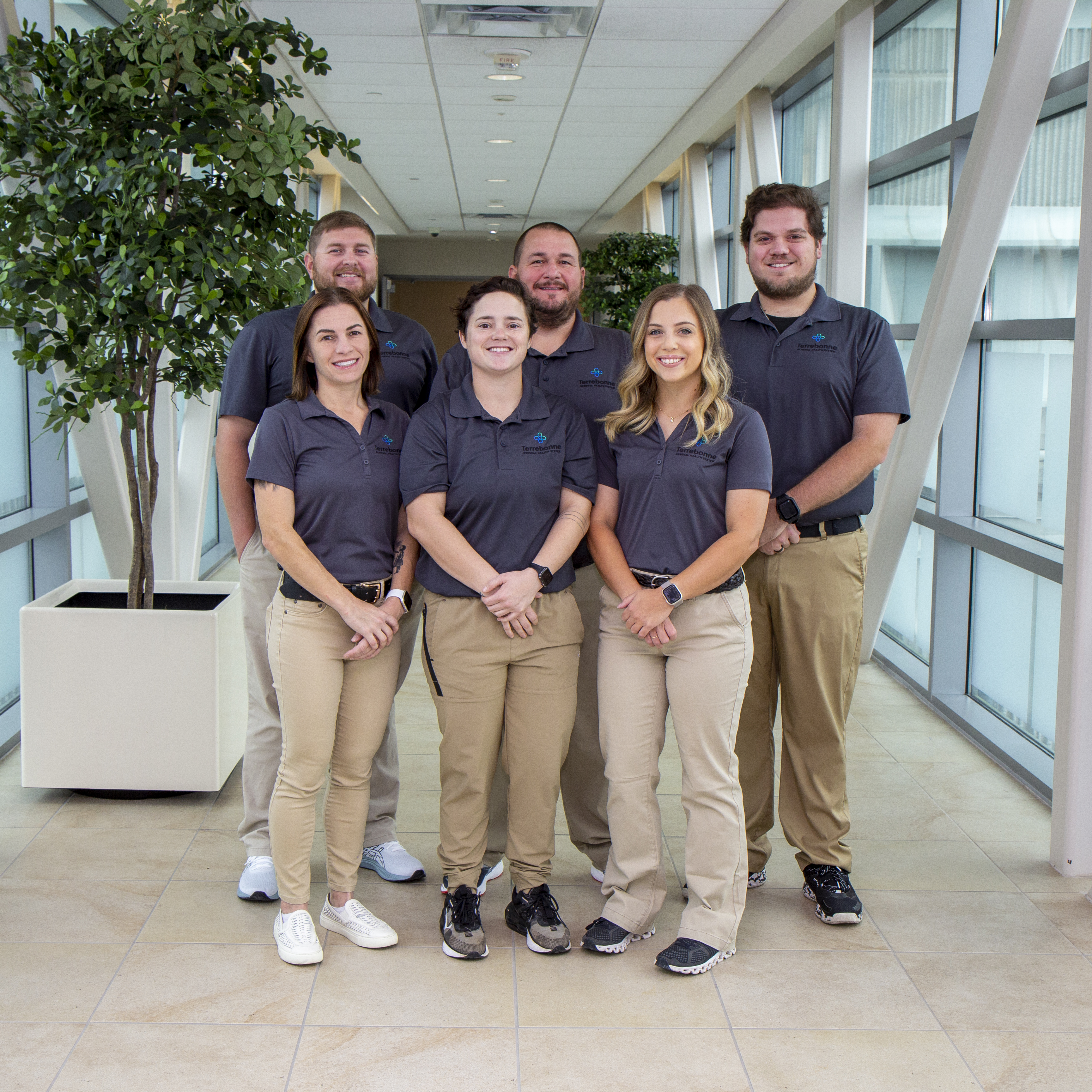 For more information, please call (985) 873-4141.
Careers at Terrebonne General
Health System
Would you like to hear about future openings at Terrebonne General?
Register Here