Dietitian at Mary Bird Perkins Terrebonne General Cancer Center Gains Prestigious Certification
Category: News
Posted On:
Written By:

Rhonda Alfred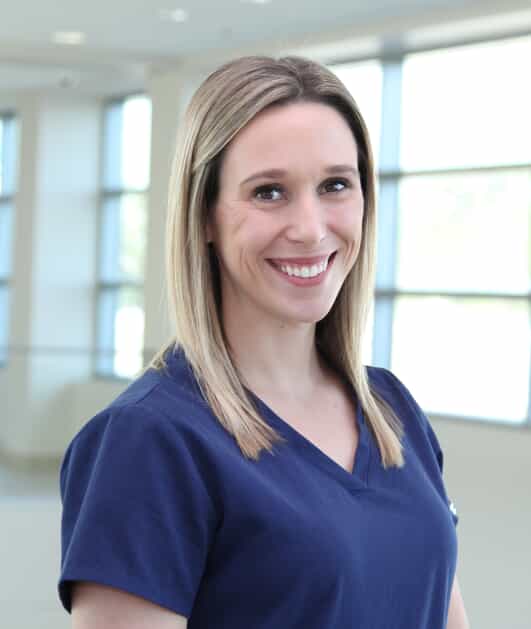 ​
​Mary Bird Perkins TGMC Cancer Center is excited to announce that Allison Cazenave, RDN, CSO, LDN, is now a Board Certified Specialist in Oncology Nutrition (CSO) by the Academy of Nutrition and Dietetics. The certification allows dietitians to gain more specialized knowledge on providing and recommending nutritional services to oncology patients.

​
​
The CSO certification requires the dietitian to complete at least 2,000 hours in oncology nutrition in less than two years, followed by a certification exam. To maintain the certification, the dietitian must take the certification exam every five years.
While Cazenave is one of eight CSOs in the state of Louisiana, she is the only Board Certified Specialist in Oncology Nutrition in the Bayou Region. Cazenave elected to pursue the certification when she began working at Terrebonne General Medical Center as an inpatient dietitian, and soon began gaining her hours when she transitioned to working for Mary Bird Perkins Cancer Center TGMC Cancer Center.
"Allison's dedication to providing advanced care and nutritional services to our patients is part of the comprehensive care here at Mary Bird Perkins TGMC Cancer Center," said Monica Allen, Cancer Center Service Line Administrator. "Her determination in achieving the Certified Specialist in Oncology Nutrition certification was due to her desire to provide patients with the best possible care and outcomes; this kind of dedication is truly the hallmark of what we do."
Clinical dietitians on staff help patients maintain their nutrition in order to maximize their strength while undergoing treatment and after treatment. The Cancer Center's dietitians have special training in oncology and nutrition, and make recommendations to address the side effects of cancer treatment and to provide maximum nutrition for each patient based on their type of cancer.
For more information about nutritional services offered at Mary Bird Perkins TGMC, visit our website.