Sudden Impact Program
Together, we are saving lives!
Motor vehicle crashes remain in the top three mechanisms of serious and fatal injury, specifically in the adolescent population. The Sudden Impact presentation is a powerful hospital based, sophomore level program. The medical and law enforcement team provide detailed information on laws, injuries, alcohol use, crash dynamics, statistics and show case the resulting consequences. Emphasis is placed on measures to prevent the crash, establish communication with parents regarding impairment and develop a plan to offer alternatives to driving under the influence.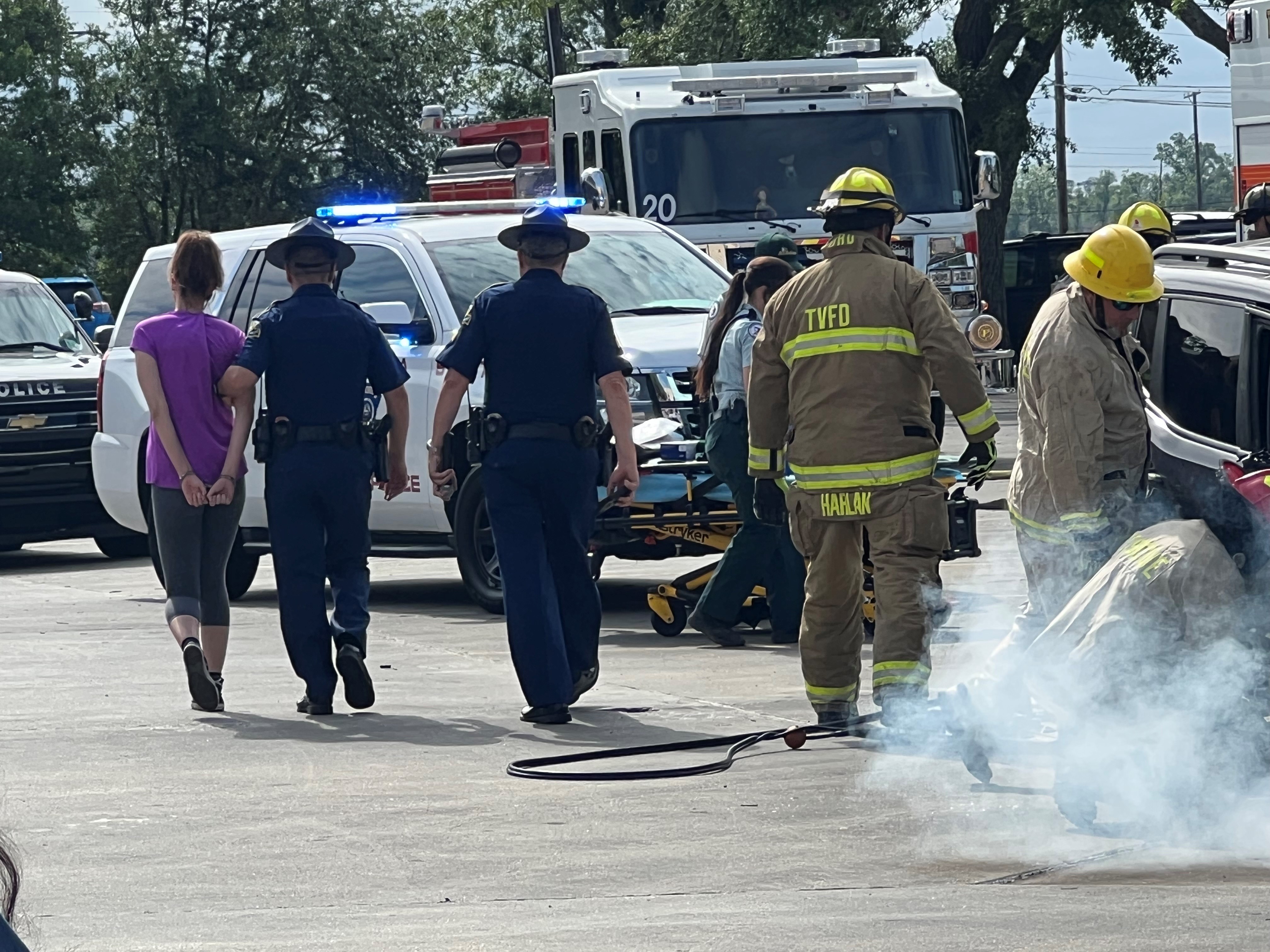 ​A collaborative team from Terrebonne General Health System, University Medical Center, Louisiana State Police, the Louisiana Highway Safety Commission and DOTD, provide a researched-based, data-driven prevention program to decrease the number of injuries and fatalities.
The experience includes a debriefing, in which the team encourages communication and discussion among the class. Students speak among their peers concerning changes in attitude and behavior, the impact of the program and their intended plan. The discussion allows for peer to peer interaction.
The Mock Crash portion of the program includes an outdoor theatrical production of a motor vehicle accident highlighting poor decisions, driving under the influence, texting while driving, lack of seat belt usage and the resulting complications. ​The participants re-enact the preventable consequences due to poor choices as a driver or passenger.
​
In 2020, there were 762 fatal crashes with 828 fatalities in Louisiana. In 2021, Louisiana reached its highest fatality year with 914 fatal crashes with nearly 1,000 fatalities. We are dedicated to reducing the number of fatalities and injuries that result from motor vehicle crashes.
By increasing knowledge, encouraging positive attitudes and promoting healthy behaviors, we are saving lives!
Participating high schools and colleges include:
High Schools

Terrebonne High School
South Terrebonne High School
H.L. Bourgeois High School
Vandebilt Catholic High School
Houma Christian School
Covenant Christian Academy
South Lafourche High School
Central Lafourche High School
Thibodaux High School
Assumption High School
Ellender Memorial High School

Colleges

Nicholls State University
Fletcher Technical Community College

Assisted Schools

Mount Carmel Academy
Jesuit High School
South Lafourche High School
U High LSU
Parkview Baptist School
De La Salle High School
Dutchtown High School
Central Private High School
To learn how your school can get involved, call (985) 850-6214 or email shelby.griffin@tghealthsystem.com.
Careers at Terrebonne General
Health System
Would you like to hear about future openings at Terrebonne General?
Register Here