Event Details
Free Community Health Screenings
Categories:

Community Events, Health & Wellness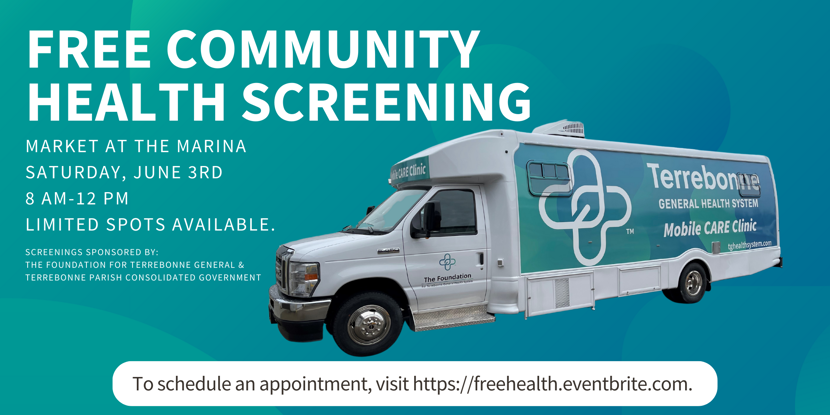 About This Event
Event Type:Community Outreach
Details:
Join us for free community health screenings on our new state-of-the-art Mobile CARE Clinic at Market at the Marina on June 3rd, 2023, from 8 am-12 pm.
The Wellness for Life team at Terrebonne General Health System will be offering annual Wellness Screenings. Our wellness screenings include the following:
Health history questionnaire
Blood pressure evaluation and resting pulse
Body composition analysis on an In-Body scale
Lipid panel and glucose via fingerstick (cholesterol, HDL, LDL, triglycerides)
Personal prevention plan with a nurse practitioner
Personal results delivered privately in real-time
Fasting is preferred but not required. Each screening will take approximately 10-15 minutes per participant. Results will be given to you during your consultation with the Nurse Practitioner.
If you have any questions, contact Jenna Flynn, Wellness Specialist.
Phone: 985-850-6214 | Email: Jenna.Portier@tghealthsystem.com
Registration
Price:

Free
Registration Instructions:

There are a limited number of appointments available. 

To schedule an appointment for your free wellness screening, visit https://freehealth.eventbrite.com.