Stroke Care
Your Doctors. Your Caregivers. Your Health System.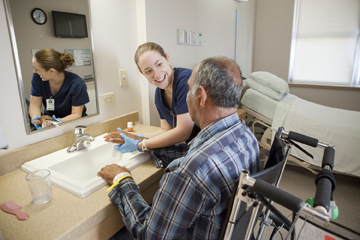 Terrebonne General Health System and Rehabilitation Center was the first to earn accreditation for a stroke specialty program by the Commission for Accreditation of Rehabilitation Facilities (CARF) in the Tri-Parish area. This certification shows that we offer the same level of stroke rehabilitation care as larger medical facilities, only closer to home. The stroke specialty accreditation signifies our hospital's compliance in leadership, risk management, health, safety, and performance. It also focuses on interventions such as preventing, recognizing, assessing, treating, and educating, as well as identifying and reducing risk factors for recurrent stroke.
The program includes functional independence, social skills, quality of life, and support services for the patient and family. The patient and family additionally receive education regarding home modifications, safety, and health risks. The accreditation addresses the prevention of cardiovascular complications, deficiencies, infections, emotional challenges, and pain. The stroke specialty program requires health assessments such as communication disorders, cognitive functions, motor skills, visual problems, activities of daily living (dressing, grooming, toileting, cooking, etc.), functional mobility, and emotional wellness. Health promotion and screenings, as well as preventative care and health care delivery, are also integral elements of the rehabilitation department.
The stroke specialty accreditation validates our overall high level of rehabilitation care. A stroke happens in seconds; however, recovery may take a year or more, depending upon the severity of the patient's stroke. Together, our Terrebonne General staff has a multi-disciplinary approach for each patient's individualized care and gets them back on the road to recovery.
To learn more about our specialty stroke program in Terrebonne Parish, please call (985) 873-4141.
Careers at Terrebonne General
Health System
Would you like to hear about future openings at Terrebonne General?
Register Here