Coronavirus (COVID-19) Updates and Information
We Keep You Informed & Prepared
Our goal at Terrebonne General Health System is to keep patients, providers, team members, and the public informed.
For the most accurate, timely information on Coronavirus (COVID -19), please visit
Terrebonne General Health System remains equipped and staffed to address the needs of our community.
COVID-19 Resources
Drive-Thru Center
8200 Main Street (corner of Main St. and Liberty St.)
Hours: Monday - Friday 8:00am - 4:00pm
Beginning July 11th, Covid-19 vaccines will be given on Monday and Friday ONLY.
Now Available - Additional COVID-19 Vaccine Booster
As per updated Centers for Disease Control and Prevention (CDC) recommendations, certain immunocompromised individuals and people over the age of 50 who received an initial booster are eligible to receive another mRNA booster.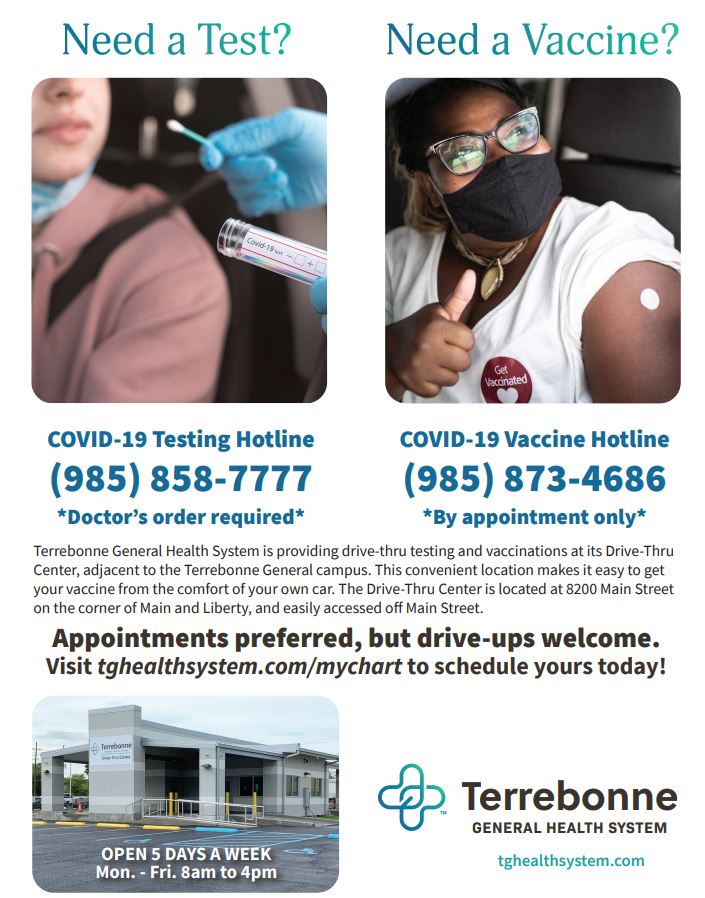 Need a record of a vaccination card?
We have resources to help you:
For more information about COVID-19, visit https://www.cdc.gov/coronavirus.
To contact us, please call (985) 873-4141.