Wellness for Life
Empower a strong and healthy team.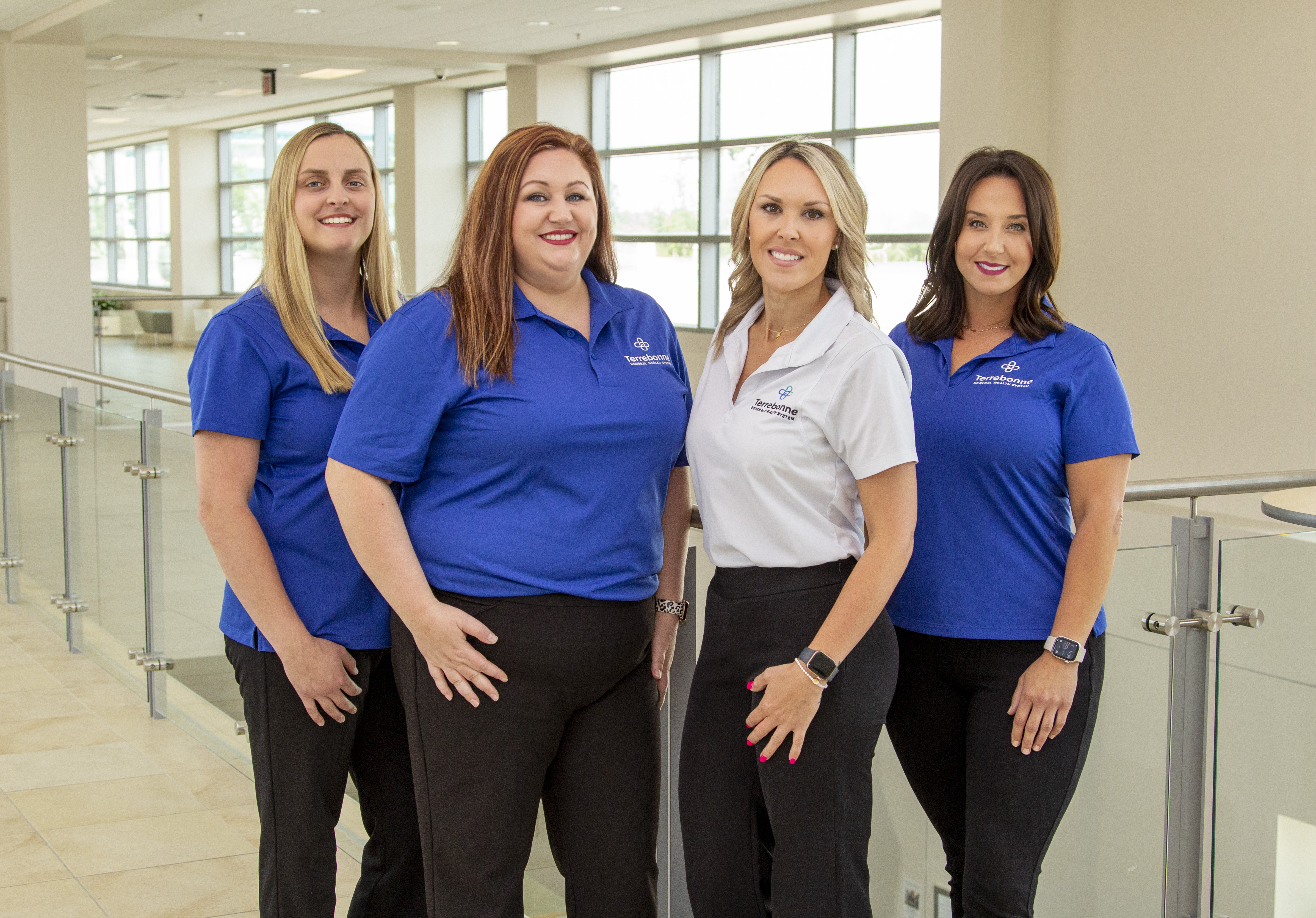 Wellness means more than being free from illness. It is the active pursuit of achieving health physically, mentally and socially. Our Wellness for Life team understands this and offers different avenues to keep our community healthy.
Our program offers someone for everyone on their wellness journey. Through corporate wellness and executive health, our work forces are given every opportunity to be healthy members of the community. Our Well & Wise program focuses on our older population to keep them engaged and energized and programs, such as Market at the Marina, are dedicated to bringing the community together to celebrate wellness.
Wellness is a constant goal, and with our team is committed to helping you make it a reality.
Corporate Wellness
Think differently about how to empower your team!
The Terrebonne General Wellness for Life team aims to create a healthier and more productive workplace by empowering your greatest asset, your employees.
Our Corporate Wellness Program will help control rising healthcare costs by improving your employees' overall health, which leads to a more productive workforce and a boost in morale. Having a wellness program in place has also been proven to reduce absenteeism, injury and illness.
Our Corporate Wellness screenings can be customized based on your needs but often include:
Health history questionnaire
Blood pressure evaluation and resting pulse
Body composition analysis on In-Body scale
Lipid panel and glucose via fingerstick (cholesterol, HDL, LDL, triglycerides)
Personal prevention plan with a nurse practitioner
Personal results delivered privately in real-time
Immunizations as requested
Employees can also take advantage of available Terrebonne General wellness programs, including:
Nutritional Counseling
Offers a comprehensive weight loss method to help clients achieve their ideal weight
Individualized nutritional counseling with a registered dietitian
Nutritional education, grocery shopping guidance, Ideal Protein and more
Corporate Fitness Packages
People of all fitness levels are encouraged to join the Sports Performance Training Center to reach their maximum fitness potential
Programs include personal and small group training and boot camp with our Certified Health and Performance Specialists
InBody Scale Analysis included with each package
We're here to help keep your employees in good health while giving them the tools they need to live more productive, healthier lives.
Schedule a wellness screening at (985) 850-6204.
Executive Health Program
Improving your overall health in just one visit.
​Our Executive Health program can improve your overall health in just one visit. The program is designed for mid to senior level executives who need to revisit their state of overall health, but have little time to do so. Our preventative screenings increase employees' well-being by providing early detection against any illness. Executive participants leave with a plan in hand to achieve a healthier lifestyle.
Terrebonne General's Executive Health Program is streamlined, making it stress-free for even the busiest executives to find time for their health.
We offer:
Concierge service from start to finish with little to no wait time on day of appointment.
Detailed health history review with Clinical Staff to ensure appropriate exams are ordered.
Insurance verified two weeks prior to appointment to allow for a more tailored visit.
A whole year of wellness completed in just three to four hours!
The Process:
Check-in
Outpatient Lab
Radiology/Imaging
Nutrition and/or Fitness Evaluation
Final MD Visit and Consultation
One visit with the Terrebonne General Executive Health team includes:
Review of Medical History, Physical Exam and One-on-One Consultation:

Provided by Internal Medicine Specialists.

Nutrition Counseling:

Private consultation with a Registered Dietitian from Weight Management

Fitness Evaluation:

Personal consultation with a Wellness Specialist from Wellness for Life.

Age/Gender Specific Testing:

Outpatient Lab and Diagnostic Imaging Centers provide a tailored lab workup and imaging package.

Documentation and Test Results:

Get your results electronically at tghealthsystem.com/mychart.
Our program is designed with efficiency in mind – skip the waiting room lines and wandering the hallways. A team member will meet you upon your arrival at the hospital, personally escort you to your appointments and ensure all of your visits run smoothly.
Call (985) 850-6204 or email ExecHealth@tghealthsystem.com to schedule your Executive Health visit or for more information.
CPR Training
For every minute that a person is unresponsive and CPR is not performed, their chance of survival is reduced by 10%.
Terrebonne General is proud to offer American Red Cross CPR/First Aid certification courses to the public. Our convenient method allows the participant to do interactive online education at their own pace. Once the online portion is complete, an in-person skills check-off will be required. Both the skills check-off and online education must be complete to obtain a 2-year certification accredited by American Red Cross.
Certification includes:
CPR/First Aid/AED for Adult and Pediatric
CPR/First Aid/AED for Adult Only
CPR/First Aid/AED for Pediatric Only
BLS for Adult and Pediatric (Healthcare Providers)
Our classes are open to groups or individuals and are offered either on-site at the hospital or at a mutually agreed upon location.
For questions concerning the class, please call (985) 850-6204.
Market At The Marina
In partnership with the Houma Downtown Development Committee, Market at the Marina is an outdoor farmers market that offers our community an opportunity to experience local vendors who produce fresh and healthy food and non-food health items. Our goal is to make it easy for the community to meet and engage with vendors and easily purchase healthy grocery and pantry items for themselves and their families.
The farmers market is located at the Downtown Marina and features local food vendors. The market is held the first Saturday of every month.
Any interested local vendors are invited to complete the Market Application.
Please contact Amanda Pontiff, Wellness for Life Coordinator, at (985) 850-6204 for more information.
Well & Wise Program
According to the National Council of Aging, millions of older adults struggle every day with health challenges, such as mental health issues or chronic disease. These conditions can negatively impact their quality of life. Good health helps ensure independence, security, productivity and overall happiness, which is why Terrebonne General Health System created the Well & Wise program.
Well & Wise, presented by The Foundation for Terrebonne General and Terrebonne Council on Aging, is an educational and inspirational six-month wellness program designed for anyone 60 years or older offered at no cost. The program offers a variety of low impact exercises and educational information on the common diagnosis among older adults, to give attendees the tools to stay healthy and active which in turn can add years to their life.
The Well & Wise program meets on the last Wednesday of every month from 9 – 10:30 am in the Terrebonne General Medical Atrium Auditorium and cover a variety of topics designed to entertain, educate and empower.
Topics Include:
Nutrition Education
Complimentary breakfast and snacks
Educational talks led by Terrebonne General experts covering topics, such as heart disease and fall prevention
Games and prizes
Senior Fitness Discounts
Weight loss challenge
Graduation ceremony at the end of the course
The program is limited to 50 participants and RSVP is required.

For questions, please call (985) 850-6204.
Child Car Seat Fitting Station
It's estimated that 96% of all child restraints are installed incorrectly. Our team can teach you how to select the proper child restraint, ensure that your child is placed into the restraint properly, and correctly install the restraint in your vehicle.
Free inspections are offered monthly on every 1st and 3rd Wednesday from 10:00 am - 12:00 pm at Terrebonne General Women's Health Center.
Careers at Terrebonne General
Health System
Would you like to hear about future openings at Terrebonne General?
Register Here